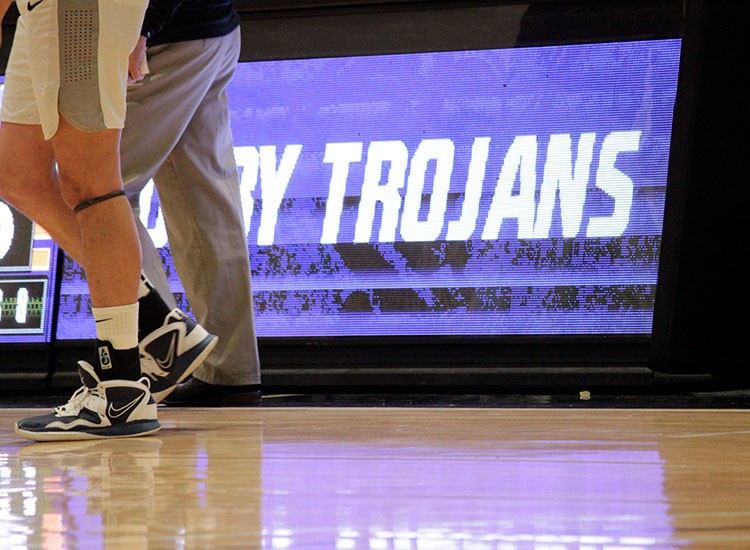 [Contributed by Jake Moss]
The Colby Trojans opened Jayhawk Conference play Wednesday with a win in El Dorado, topping the 12th-ranked Butler Community College Grizzlies 74-70.
The scoring did not come easy in the first half, and neither team had a lead of more than four points. The Grizzlies held a 28-25 advantage at the break.
The second half saw a lot more offense as the Trojans built an 11-point lead around the mid-way point. Butler led a charge late, twice getting to within a point. Colby's defense held, and Butler missed a three-pointer on their final possession that would have given them the lead. Colby's Mike Bell made all four free throws in the final minute to put the game away.
Four Trojans scored in double figures. Bell came off the bench and put in a game-high 19 points. Elijah Wood had 17 points and seven assists. Joshua O'Garro also chipped in 17 points and seven rebounds. Anthony Sellars added a double-double with 13 points and 10 rebounds.
The Grizzlies, who fall to 6-1 and 0-1 in Jayhawk Conference play, got 15 points from Rob Brown and 13 from Isaac Ondekane.
The Trojans improve to 4-3 on the season and 1-0 in the conference. On Saturday, they go to Independence Community College (2-5, 0-1). The contest will be streamed on Open Spaces Sports at about 4 p.m. after the women's game.